1. What is UniCORE ?

UniCORE is University Required Course. There are 21 Unicore courses.
2. Who should take this UniCORE ?

All IIUM undergraduate students should take the UniCORE courses.
3. Which course should I take in the first year ?

i) LEED 1301. Why?
It is because it would be useful for you in your any writing assignment.

ii) UNGS 1301 & SCSH 1201. Why?
It is because these two courses are pre-requisite to UNGS 2290 & SCSH 2163.
4. Why are the course code different in iMaalum and my programme website ?

Please come to this official website, all the information on this website is the latest information.
5. "I do not like this UniCORE courses, Can I not take this Unicore courses?"

No. UniCORE Courses are required for graduation. It is part of the guideline given by the Ministry of Education.
6. "Can I be exempted for certain UniCORE courses?"

No. However you may earn the credit in alternative way such as the packages (refer infographic STADD and SEJAHTERA).
7. Can the courses be registered not according to the proposed study plan?

Yes, as long as you complete the pre-requisite as needed. It is recommended you finish your UniCORE courses at the end of level 3.
8. "I have to take the PRSS. Can I register UniCORE Courses?"

In order to create the flexibility for University Required Courses (UniCORE) during pre-sessional period, students are allowed to register for certain courses subject to availability of the courses as follows:

i) From the point of matriculation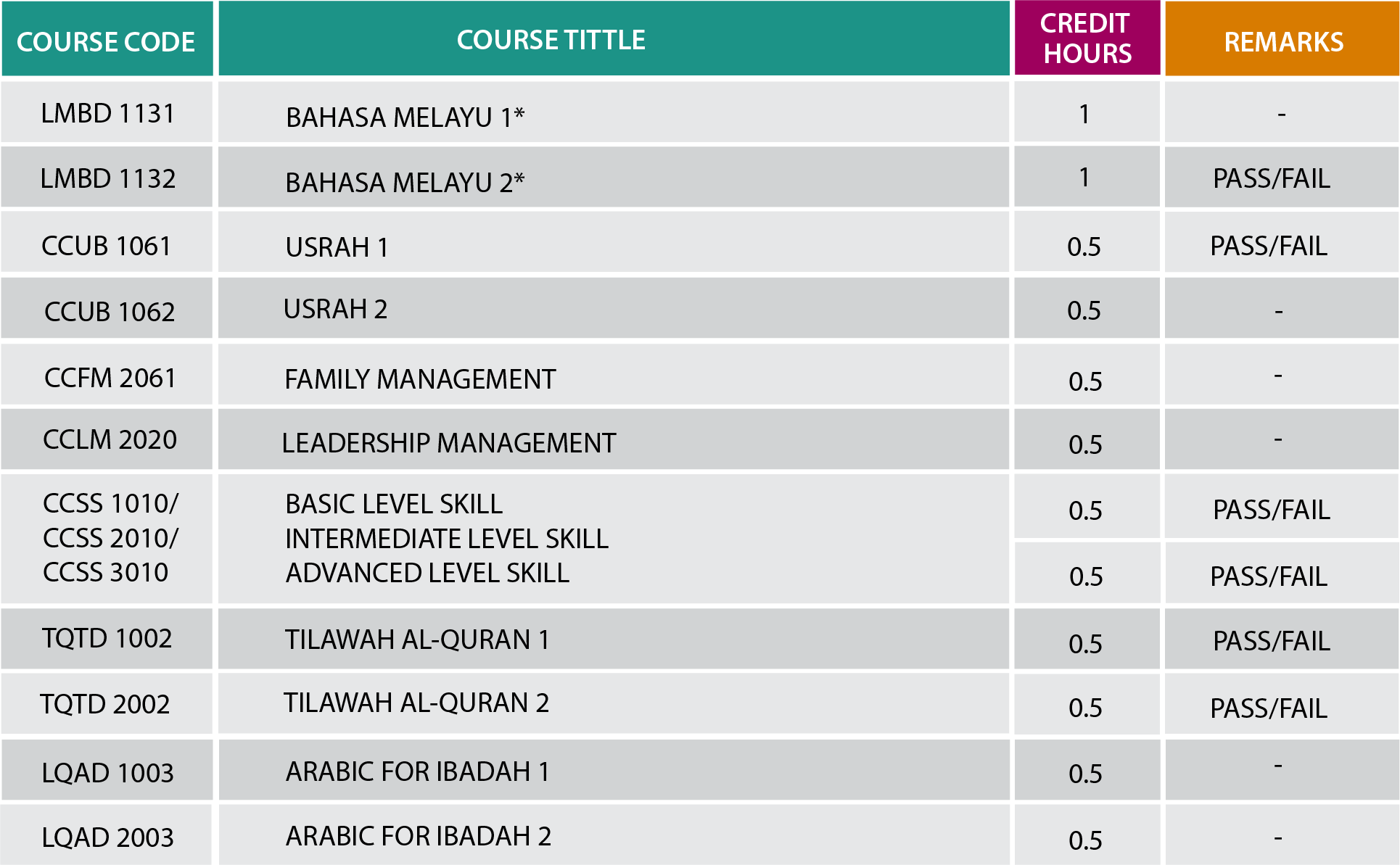 *Required for students who are not able to communicate in Bahasa Melayu.

ii) During their English Level 6

All courses in (i) and:





Student may choose to take the courses during the pre-sessional programme. Priority will be given to students in Year 1 onwards, especially to the graduating students.